A nail enhancement is any material that can add length or strength to the natural nail. Nail enhancements range from acrylic to gels to fiberglass and silk wraps. The application, strength, and longevity of each enhancement vary. There are a few different nail enhancements you can get from any local nail salon.
Benefits
Gel nails dry quicker compared to regular nail polish.
They appear and feel natural with no risk of chipping.
There is no risk of damage to the nail bed.
No impression will be left on the natural nails.
They give a shiny, fresh look.
There are no unpleasant fumes during application.
Why we maintain nail enhancements
The natural nail is constantly growing. When enhancements are applied, naturally after a few weeks these grow up with the natural nail and require a follow-up nail maintenance appointment. This ensures that the enhancement remains structurally sound by ensuring that the apex is put back into its correct place.
If enhancements are not maintained regularly, the grown-out product can put pressure on the natural nail underneath and can cause a weak structure, which is more prone to breaking and lifting. The period in between maintenance appointments differ for each individual client, depending on their lifestyle, aftercare, and natural nail growth.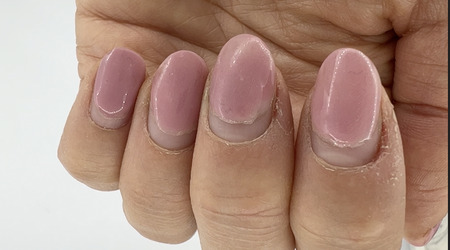 How we maintain nail enhancements
When it comes to enhancements there are two types of maintenance services the clients can have:
Full Maintenance: a back-fill, fill, fill-in, touch-up, maintenance, etc. After around two to three weeks, the enhancement will require 'full maintenance'. When the enhancement grows out, it loses balance, the apex moves forward and so does the smile line (on a pink and white enhancement). This consists of the existing product gently being filed down completely, the apex replaced, and the white smile line is repositioned and the free edge is reshaped and excess length adjusted in order to retain the proper balance to the overall structural integrity of the extension.
Re-balancing the enhancement: infills, rebalance, refill. After around two weeks, the enhancement will require a 'fill' at the cuticle area to re-balance the enhancement by replacing the apex to its original position to restore strength at the stress point where most cracks appear. If the client has regular one colour acrylic with a gel polish application, this service would be acceptable to perform regularly.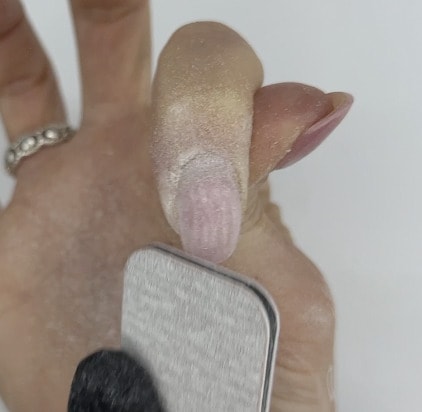 When to apply a new set
For a client that keeps to the same style and shape of enhancement, there is no need to remove and replace them with a full set, unless we want to.
To constantly remove and replace the enhancement puts unnecessary stress on the natural nail and the regular and repeated use of acetone can dry out the natural nails and skin, leading to a more brittle natural nail and weaker foundation for the enhancement.
Of course, there are times when it necessary to remove a set of enhancements. This could be due to client needs or to replace with a new set due to the following reasons:
Creating a new shape – each shape requires a different form fit and apex placement.  If you maintain one shape and change to another other, the fit and apex will be in the incorrect place leading to a weak structure and unbalanced enhancement.
Complete design change – if a client has regular custom design nails, then it will sometimes be necessary to remove the set and reapply a new set due to the above.  Let's say they had a black free edge and would like to change to a pink free edge, if the set is not replaced you will see a 'sandwich' of the different colours at the free edge.
Natural nail growth – if the clients natural nail grows downwards or ski slopes up, then it is necessary to replace with a new set when required to remove the natural nail growth and adjust and correct with a new form or tip fit. If the natural nail foundation grows this way, by leaving the enhancement over this continually, you will have a weak structure, which will be more prone to breaking and lifting.
You should assess each client's nails individually, taking into consideration all of the above to make the best decision to suit their needs and most importantly taking care of their natural nail health and integrity.